Industrial Reverse Osmosis Systems
4″ Membrane Series 10,000–26,000 gallons per day (GPD)
8″ Membrane Series 28,800–460,000 GPD
Programmable Logic Controller (PLC) completely automates system operation at maximum efficiency by utilizing multiple flow meters, pressure gauges, and water quality meters
Membrane Clean-In-Place System (CIP) simplifies and automates the membrane cleaning process and allows for automatic permeate flush, significantly increasing the lifespan of the membranes
Fiberglass membrane housing, stainless steel VFD pump, and extra low-energy reverse osmosis (RO) membranes with up to 99% parts per million (ppm) reduction
Heavy duty powder-coated steel frame comes pre-plumbed and leak-tested
Built in USA
Industrial Reverse Osmosis Systems
4″ Membrane Series 10,000–26,000 gallons per day (GPD)
8″ Membrane Series 28,800–460,000 GPD
Programmable Logic Controller (PLC) completely automates system operation at maximum efficiency by utilizing multiple flow meters, pressure gauges, and water quality meters
Membrane Clean-In-Place System (CIP) simplifies and automates the membrane cleaning process and allows for automatic permeate flush, significantly increasing the lifespan of the membranes
Fiberglass membrane housing, stainless steel VFD pump, and extra low-energy reverse osmosis (RO) membranes with up to 99% parts per million (ppm) reduction
Heavy duty powder-coated steel frame comes pre-plumbed and leak-tested
Built in USA
For larger projects that require a higher volume of filtered water or more control over operations, our Industrial RO Systems are built to deliver, with the highest performance and quality standards in the industry. 
The HyperLogic PLC completely automates system operation by utilizing multiple flow meters, pressure gauges, and water quality meters, constantly adjusting the system to run as efficiently as possible. 
The CIP simplifies and automates membrane cleaning, significantly increasing the lifespan of the membranes, saving both money and time.
Specs
Industrial Reverse Osmosis Systems 4″ Membranes

Heavy Industrial Reverse Osmosis Systems 8″ Membranes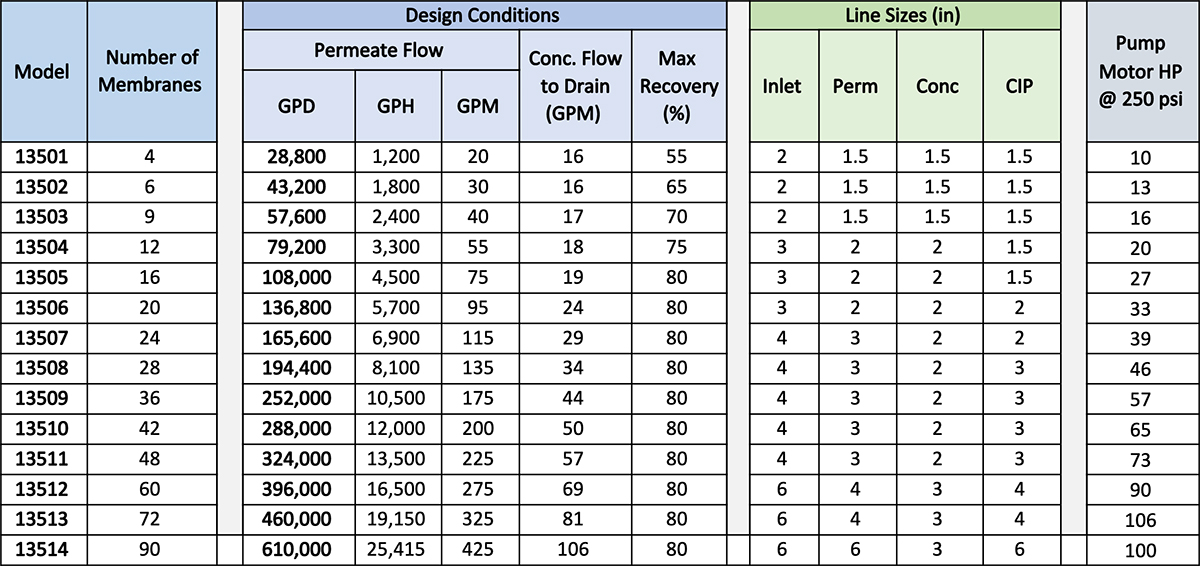 Operating Parameters and Limits
| | |
| --- | --- |
| RO Operating Parameter | Limit |
| Feed Total Dissolved Solids (TDS) | <2,000 ppm |
| Feed Water Turbidity | Less than 1 NTU |
| Feed Water Silt Density Index (SDI) | 3 maximum |
| Minimum Dynamic Feed Pressure | >45 psi |
| Maximum Static Feed Pressure | <80 psi |
| Maximum Feed Iron | 0.05 ppm |
| Feed Water Silt Density Index | 3 maximum |
| Feed Water Chlorine Level | 0 ppm |
| Feed Water Hardness | 0 ppm |
| Feed Water Temperature Range | 40-100°F |
| Capacity Basis | 24 hours/day |
Industrial Systems rated at 77°F (25°C) using 2,000 ppm feed water and approximately 225 psi (16 kg/cm²) pressure. System capacity changes significantly with water temperature and feed TDS. For higher TDS, a water analysis must be supplied and could result in modifications to the system.

NOTE: Additional pre-treatment may be necessary based on feed water chemistry.

For higher TDS, problematic contaminants, or by request, we can project the permeate and concentrate water quality, flow rates, and pressures using our fully integrated modeling software to improve system design for maximum efficiency.
Dimensions
Industrial Reverse Osmosis Systems 4″ Membrane Series (Includes CIP)
Heavy Industrial Reverse Osmosis Systems 8″ Membrane Series (Includes CIP)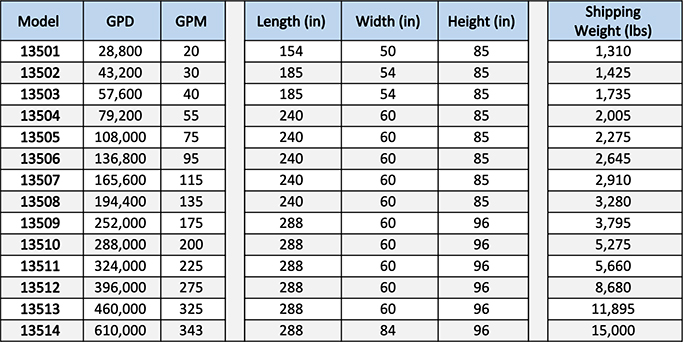 *The RO system requires 24″ minimum clearance on the left side and 48″–60″ minimum clearance on the right side for membrane replacement.
PLC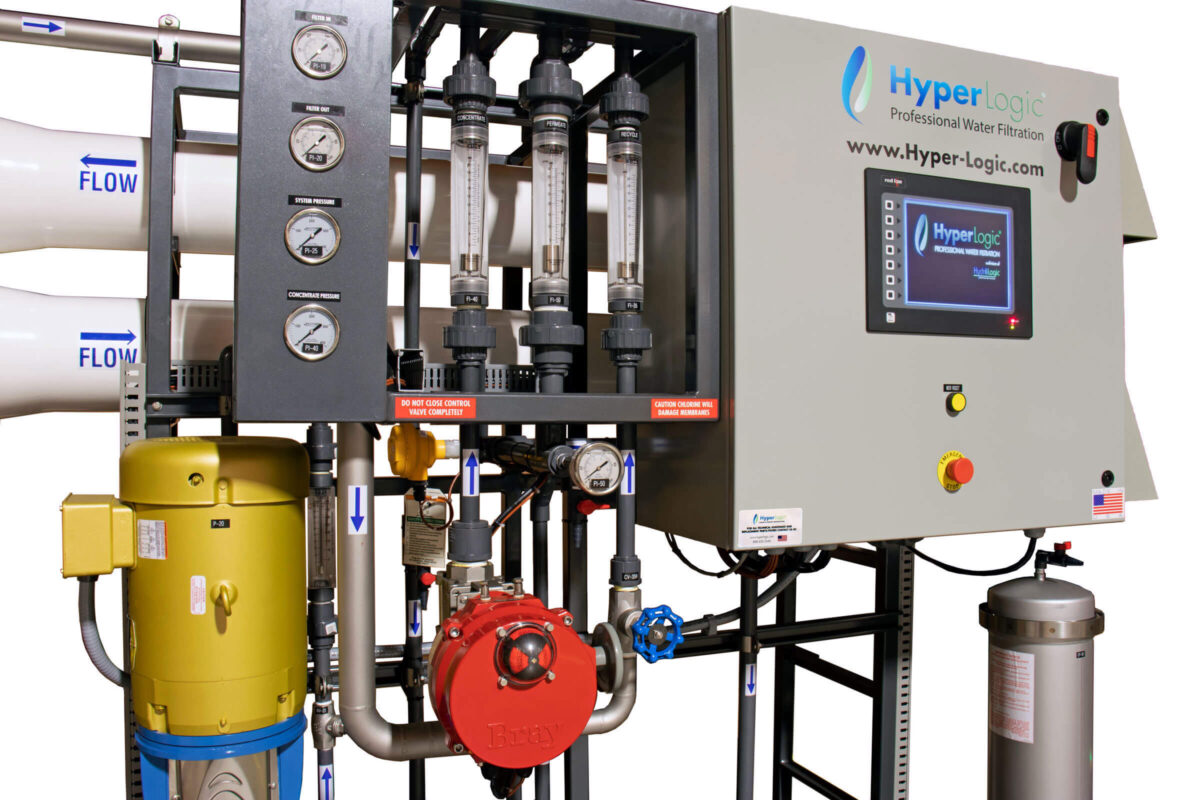 Benefits of Using the PLC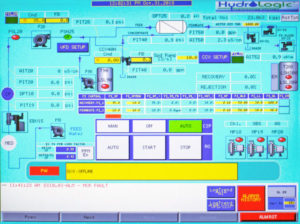 Completely automates RO operation. The PLC utilizes multiple flow meters, pressure gauges, temperature probes, and TDS meters, to constantly adjust the system to perform as efficiently as possible
Eliminates human error of manipulating valves and controls, giving facility staff confidence the system is always operating at maximum efficiency. Advanced security only allows authorized users to enter operating and programming modes
Automated Permeate Flush upon startup and shut down allows any scaling debris to be flushed out of the membranes and drastically extends membrane life
Integration of networking systems allows for easy communication with other control systems
Troubleshooting the RO systems is dramatically simplified and warns staff before problems occur
Standard PLC Features (Included)

Touch Screen Control

Manual control features allow operators to open valves, start and stop pumps by pressing the icon on the Touch Screen Panel display.

Engineering and System Setup Interface

Through the Touch Screen the alarm setpoints, efficiencies and proportional control settings are fully adjustable.

Data Logging Features

The system parameters are logged through the touch screen panel software and saved to an Excel file onto a secure digital card for analysis.
Upgradable PLC Features (Optional)

Advanced Data Monitoring

Allows for configurable trending, data analysis, and development of an Excel spreadsheet to retrieve and chart data, with the capability to publish real-time and historical information to the Internet. Information can quickly troubleshoot problems, study process inefficiencies, and eliminate the time-consuming process of locating the data.

Remote Monitoring and Control

This feature allows access to view and control system operation from any remote location with an internet connection. Includes laptop required to communicate with system and to access real time information.

Alarm Notification

Alarms are configured to contact employees via cell phone or text. Alarms can be vocalized over speakers, radios, and telephones. Users can listen to and acknowledge alarms, change set points, hear exact values of variables, and operate equipment via telephone from remote locations, saving valuable time and money.
---
HyperLogic Heavy Industrial PLC Sheet
CIP
On-Skid Membrane Clean In Place & Permeate Flush System (CIP)
Membrane Clean-In-Place & Permeate Flush System
The Membrane Clean-In-Place system simplifies and automates the membrane cleaning process which drastically increases the lifespan of the membranes, improving the Return On Investment (ROI)
The CIP also doubles as a permeate flush system which immerses the membranes in RO water when the system is not running
The permeate flush is highly recommended where the feed water is likely to cause fouling problems
The CIP system includes PE tank, stainless steel flush pump, filter, valves, quick connect fittings and controls to automatically flush the membranes with RO permeate water at shut-down
---
HyperLogic Heavy Industrial CIP Sheet
System Options
Power Options
Reverse Osmosis System Power Options
208/220-240V, 3Ph
460-480V, 3Ph, 60Hz
Components
HyperLogic's focus on sturdy, reliable filtration systems begins with the highest quality components available. Our customized systems are designed and built in the USA, and are rigorously tested to ensure minimal downtime
Stainless steel multistage high-pressure RO pump with automated control valve
Custom wiring for VFD drive pump, prefiltration, low/high pressure pump protection, tank level inputs, water quality monitors, CIP processes, and PLC
Stainless steel sediment prefilter and motorized automatic inlet feed valve
Conservatively engineered for reliable long term performance
316SS high pressure piping and Sch. 80 PVC low pressure piping
Panel mounted stainless steel flow control valves
Panel mounted flowmeters: product & concentrate
Low inlet pressure switch
High pressure switch
4) Panel mounted liquid filled pressure gauges: Filter in/out, pump, concentrate
TDS Meters for Feed and Permeate water
Support
Custom engineered P&ID, electrical drawings, specification sheets, schematics and instruction manuals available upon initial deposit.
Over-the-phone /  video chat system startup included
On-site system commissioning and operation and maintenance training available for a service charge.
Quarterly, bi-annual or annual site visits to ensure systems are running to spec and continuous staff training for a service charge
We are devoted to providing the best customer service to support you in getting the highest performance from our products!
Feel free to call our Commercial Department Monday–Friday, 9am–5pm PST at  (888) 426-5644 ext. 3.
Or email anytime.
Sales: hyperlogicsales@hydrologicsystems.com
Technical Support: hypertechsupport@hydrologicsystems.com