Commercial Reverse Osmosis
2,000 GPD Upgradable to 10,000 GPD & Mega-frame 11,500 Upgradable to 19,000 GPD
Up to 5 parts product water to 1 part wastewater, 5:1 Reverse Ratio
Extra low energy Reverse Osmosis Membranes with up to 99% contaminant rejection
Advanced Microprocessor Computer Controller
Stainless steel membrane pressure vessels and brass fittings
Plug & Play Skid comes pre-plumbed and leak-tested, built in USA
Commercial Reverse Osmosis
2,000 GPD Upgradable to 10,000 GPD & Mega-frame 11,500 Upgradable to 19,000 GPD
Up to 5 parts product water to 1 part wastewater, 5:1 Reverse Ratio
Extra low energy Reverse Osmosis Membranes with up to 99% contaminant rejection
Advanced Microprocessor Computer Controller
Stainless steel membrane pressure vessels and brass fittings
Plug & Play Skid comes pre-plumbed and leak-tested
Built in USA
HyperLogic's Commercial Reverse Osmosis line includes system configurations that produce 2,000 to 19,000 gallons of pure water, per day. Each system is custom built based on water chemistry and site specific needs, ensuring successful water management solutions for maximum productivity and efficiency. Our custom systems feature the lowest wastewater to product water ratios in the cannabis industry, with up to an ultra-efficient 80% recovery rate. HydroLogic Commercial Reverse Osmosis water purification systems are leak and performance tested and will arrive in perfect working order having already passed our stringent quality assurance guidelines. With hundreds of successful cannabis grow operation installations across the USA and Canada, HyperLogic is the #1 best selling Reverse Osmosis brand in the cannabis industry. For pure water requirements beyond 19,000 GPD, please refer to the HyperLogic Industrial Series.
Specs
Commercial Reverse Osmosis System Specifications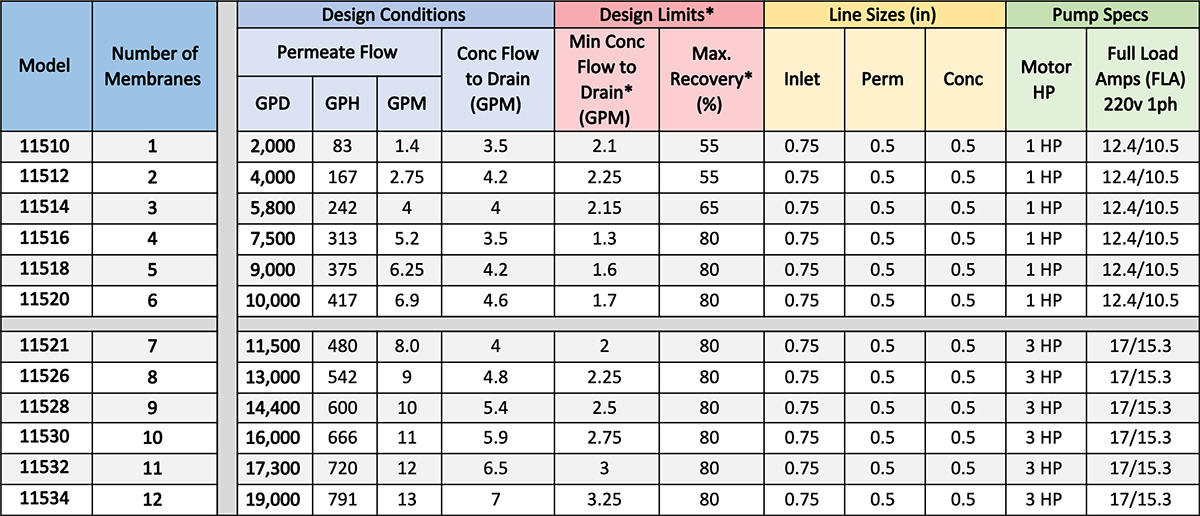 Operating Parameters and Limits
| | |
| --- | --- |
| RO Operating Parameter | Limit |
| Feed TDS | <1,000 PPM |
| Feed Water Turbidity | Less than 1 NTU |
| Feed water silt density index (SDI) | 3 maximum |
| Minimum Dynamic Feed Pressure | >45 psi |
| Maximum Static Feed Pressure | <80 psi |
| Maximum Feed Iron | 0.05 ppm |
| Feed Water Silt Density Index | 3 maximum |
| Feed Water Chlorine Level | 0 ppm |
| Feed Water Hardness | 0 ppm |
| Feed Water Temperature Range | 40-100°F |
| Capacity Basis | 24 Hours/Day |
Dimensions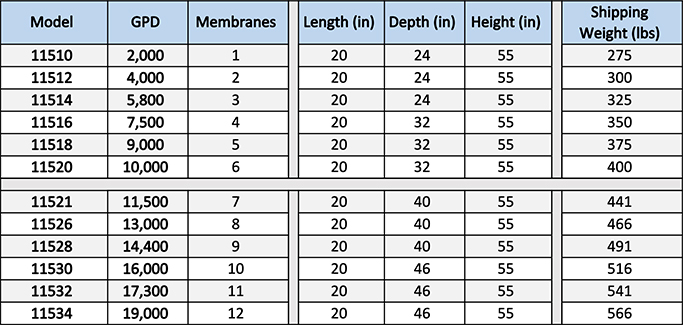 Commercial Systems rated at 77°F (25°C) using 1,000 ppm sodium chloride solution operating at approximately 200 psi pressure. System capacity changes significantly with water temperature and feed TDS. For higher TDS, a water analysis must be supplied and could result in modifications to the system

NOTE: Additional Pre-treatment may be necessary based on feed water chemistry

For higher TDS, problematic contaminants, or by request; we can project the permeate & concentrate water quality, flow rates, and pressures using our fully integrated modeling software to improve system design for maximum efficiency5
System Options
Skid Systems
Turnkey Custom Systems with Plug & Play Convenience
The Plug & Play Skid Assembly is a turnkey system that comes equipped with all the water treatment equipment mounted on an all metal, powder coated skid with a fiberglass reinforced plastic grating floor. The pre-treatment equipment, the reverse osmosis (RO) unit, and options such as re-pressurization pumps for distribution of RO water come fully assembled, plumbed together, wired, and pre-programmed specifically to your site's unique water quality conditions. Just forklift the skid into place, connect the inlet, drain and product water lines, and hard wire in the single electrical connection to be up and running quickly. The startup procedure is greatly simplified. No need to hire plumbers for long hours of installation and programming, the time spent on the actual install is virtually eliminated with this plug and play option. You are ready to produce the highest quality water with the confidence that everything is professionally plumbed and automated. Highly recommended for systems with multiple components. Leave the hard work to us and have pure water flowing shortly after receiving your customized HyperLogic skid system.
Features
Powder coated all-metal skid and back panel
Fiberglass reinforced, no-rust floor
Single point inlet, outlet, and drain
All components and plumbing go through rigorous quality control with leak and performance testing
All components are pre-programmed specific to your application
Schedule 80 plumbing is used throughout the system
Pressure gauges and sample ports are installed after each stage of filtration for simple troubleshooting and monitoring the performance of each filtration stage
All electrical leads tied together to a single connection point
Available in three standard sizes (Long x Deep x Tall)
72″ x 30″ x ~96″
96″ x 40″ x ~96″
120″ x 60″ x ~96″
Also available in custom sizes
---
HyperLogic Commercial Skid System Sheet
Power Options
Reverse Osmosis System Power Options
208/220-240V, 1Ph, 60Hz (2,000-10,000 GPD)
208/220-240V, 1Ph, 60Hz (10,800-19,000 GPD)
208/220-240V, 3Ph, 60Hz (5,800-19,000 GPD)
460-480V, 3Ph, 60Hz (5,800-19,000 GPD)
Skid System Power Options
Controller
Monitors and Controls:

Feed water flush at system shut-down
Low pressure switch
On/Off with tank level
Permeate Water Quality (TDS)
Pre-treatment backwash/lockout
Permeate TDS
Feed TDS and percent rejection
Water Temperature
Operating hours
RO tank full override
Auxiliary pump or valve control (optional)

Controller Features:

Backlit LED Display
Multi-function keypad
Visual and audible alarm & silence key
Programmable time delays, set-points and flush mode
Visual indicator alarm light
Low pressure automatic restart

LED Display:

Permeate TDS
Feed TDS with % Rejection
Water Temperature
Operating Hours
Operating Status
Alarm condition
Components
HyperLogic's focus on sturdy, reliable filtration systems begins with the highest quality components available. Our customized systems are designed and built in the USA, and are rigorously tested to ensure minimal downtime.
Liquid filled pressure gauges for pre-filter in & out, concentrate pressure and system pressure
Stainless steel multistage high pressure RO pump with SS pump throttling valve
5 micron 20″ x 4.5″ cartridge filter & housing sediment pre-filter
Product, concentrate & recycle flowmeters
System control, recycle control & pump throttle valves
Stainless steel membrane pressure vessels
Low pressure pump protection switch
Powder coated, heavy gauge carbon steel frame
Support
Custom engineered P&ID, electrical drawings, specification sheets, schematics and instruction manuals available upon initial deposit
Over-the-phone / video chat system startup included
On-site system commissioning and operation and maintenance training available for a service charge
Quarterly, bi-annual or annual site visits to ensure systems are running to spec and continuous staff training for a service charge
We are devoted to providing the best customer service to support you in getting the highest performance from our products!
Feel free to call our Commercial Department Monday–Friday, 9am–5pm PST at 
(888) 426-5644 ext. 3.
Or email anytime.
Sales:
hyperlogicsales@hydrologicsystems.com
Technical Support:
hypertechsupport@hydrologicsystems.com