Industrial reverse osmosis systems for premium crops have become a standard amongst professionals looking for a competitive edge. Taking control of all inputs provides the necessary data to calibrate every aspect of a successful grow, and pure water has matured from an assumption of adequacy to a demand for quality.
Not all systems, system designers or filter system companies are equal. The short version: You get what you pay for.
HyperLogic doesn't just sell industrial and commercial water filtration equipment to growers. What sets HyperLogic apart from other companies is how thorough and complete the custom system designs are, custom-tailored to a site's specific water chemistry.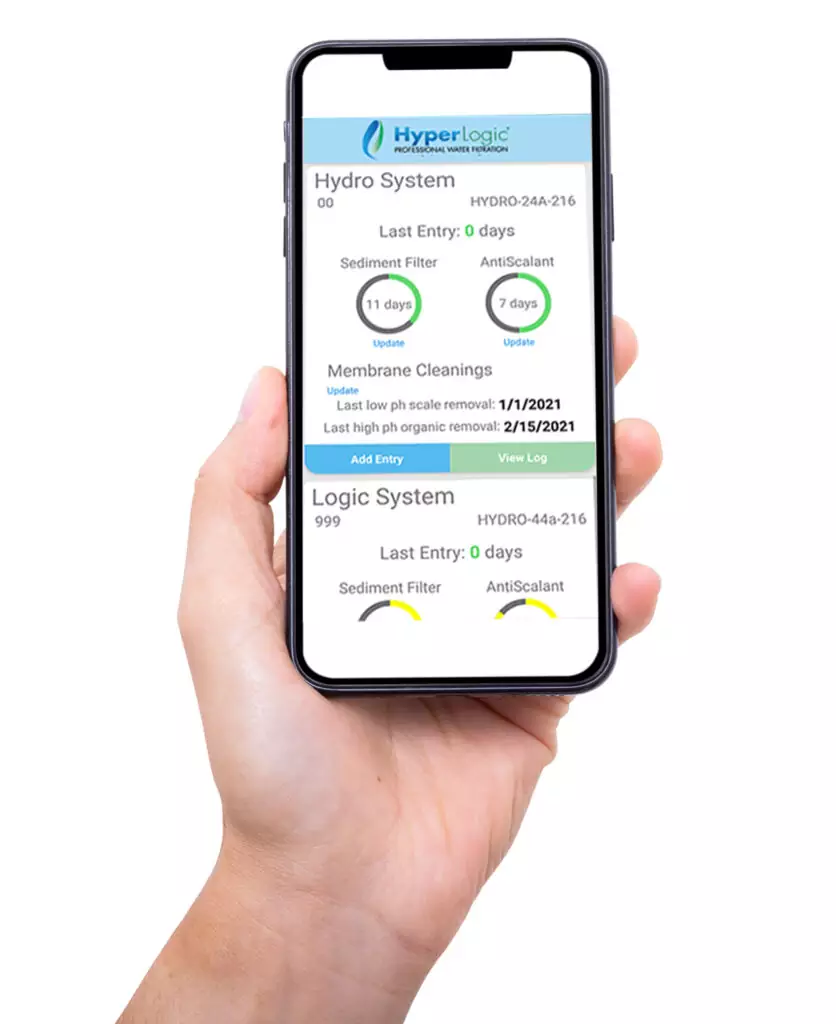 Plants are sensitive to water quality issues, and only HyperLogic—growers who engineer systems for other growers—fully understand what it takes to balance the focused needs of the plant with cost, service and other important resource considerations. Generic equipment purchases become extremely risky without the depth of knowledge and system engineering required to deal with specific water quality issues. Finding out the hard way means more downtime, more frequent equipment and renewable expenses and higher operating costs. Money "saved" from a poorly designed system evaporates quickly and the extra expense remains ongoing until redesigned by a professional who understands filtration, chemistry, AND cannabis. 
Another quality investment that sets HyperLogic apart is service. While the philosophy behind every system design is "do it right, set it and forget it", when system service is needed, a robust response ecosystem is in place.  The HyperLogic app keeps every system on track with system maintenance, but also contains troubleshooting videos, quick-start guides, manuals and more. 
HyperLogic technicians are a call away and can be onsite within a short period of time to any customers in North America.  Like all great technical departments, your calls are answered immediately, and solutions are provided as quickly and efficiently as possible. 
Investing in quality is not just the time spent in design, but the resources available to minimize costly downtime.  Too often, cheaper systems sold without an internal tech team are either farmed out to expensive third party repair companies when service is needed, or are just no help at all, leaving the system owner to figure out what to do next. 
Investing in quality also means you know where your equipment came from and have total confidence in the build, as well as build materials. All HyperLogic systems are built in the USA, professionally assembled from the best parts available.  Each custom system is leak and performance tested before it ships to you, having passed ISO 9001 quality guidelines.
Downtime is extremely expensive, and in some cases, could ruin a business. All systems are only as good as the weakest link in the chain, which is why HyperLogic only goes with the best. There are no "points of failure" on HyperLogic filters, each is designed with rugged durability in mind, for years of trouble-free filtration. Want to get into the details? Check out The HyperLogic Advantage, and learn why investing quality is always best-practice for growers serious about success.